Through a general donation to the Christ Church Cathedral Reinstatement Project you become an integral part of the future of the Cathedral.
We know we have a huge fundraising task ahead of us and we need the generosity of all our friends and supporters to reinstate our cathedral as a symbol of life and spirituality in our city.
Thank you for considering a gift to our project.
Your generosity is appreciated by all.
Ways to Donate
Your donations are very welcome. There are many ways to make a donation.
The current fundraising target for Christ Church Cathedral Reinstatement Limited is $52.6M
We require the generosity of many to reinstate our Cathedral for us and future generations.
Donate securely online or please use one of the other options below.
If you would like to discuss making a donation to the reinstatement project in someone's name, a bequest or making a donation from overseas please contact our Campaign Manager Erin Reeve erin.reeve@ccrl.org.nz
Direct debit
Please deposit into our Christ Church Cathedral Reinstatement Limited bank account:
38-9019-0866729-04
Please send your details erin.reeve@ccrl.org.nz for a receipt.
Donate in person
At Level 2, 77 Hereford Street, Christchurch. (Brother Building – above Therapy Café).
All Donations over $5 are tax deductible and a receipt will be issued to all New Zealand Taxpayers. We are registered as a charity under the Charities Act 2005, CC55705.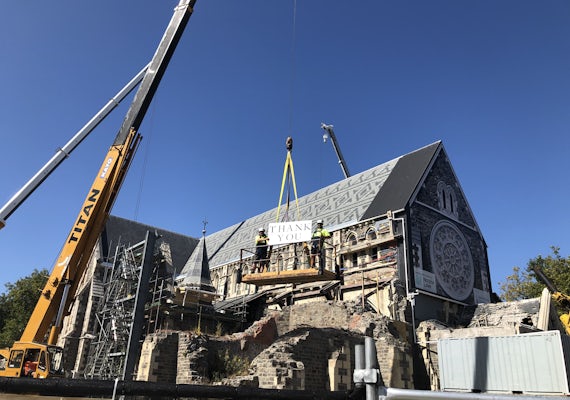 Today is a good day to say thank you…
Our journey to reinstatement relies on the support and generosity of many individuals, corporates, trusts and foundations.
Our Donors